Treat Now! Pay Later With Cherry! 
Whether tax season is coming up, or your kids college tuition is due, we have you covered. If you don't want to pay upfront out of fear that you may need the cash, luckily Cherry offers variety of options for anyone that wants to look and feel their best without breaking the bank. We are excited to launch Cherry one of the top payment plan providers in the US. Yes, Cherry offers 0% interest options for qualified applicants. Even if your credit is not perfect, you should apply for this program.
How do Cherry Payment Plans Work?
You may be wondering how Cherry Payment Plan works. Well, it's a bit different from other finance/ loan companies. Cherry doesn't charge any interest or fees (to qualifying applicants) and patients don't need to pay back the full amount of their purchase within a certain time frame. Cherry Payment Plans leave you, the consumer in charge. Obviously there are certain requirements such as a soft credit check. What does that mean? It means that the credit check is quick and pain-less and does not affect your credit score. 
Why does Cherry require a soft Credit Check? 
Cherry does a soft credit check to establish initial approval, approval amounts and establishes the applicants identity and payment history. Again, as mentioned above unlike traditional loans the initial credit check does not affect your credit score. If you get denied, nothing is lost. In order to calculate approval amounts, Cherry may request additional information from select borrowers based on their payment history. 
How do you get Approved for Cherry?
Once approved you can set up a payment plan. Once accepted into the program, you can pay using Cherry:
Payments can be made incrementally over time instead of all at once – like paying off a car or appliance over time instead of paying in full upfront

Customers can also choose one-time payment if they prefer not to have any installments – such as paying off an item after receiving it but before using it 
Once approved will they require a hard credit check? 
Yes, If you are approved for a loan and then choose to make monthly payments over time via automatic withdrawal from your checking account, Cherry will then perform an additional hard pull of your credit report to verify that the recurring funding sources are valid. Traditionally this means just 2 points and 1 pull. 
Does Cherry report to Credit Bureaus?
Yes, Cherry may inform Equifax, TransUnion, or Experian about the status of the borrowers' accounts.  This is good as it further establishes activity and payment worthiness should you need to buy a car or a larger purchase in the future. 
What is Cherry Perfect for?
Wellness and Med-Spa Services tend to require multiple visits and multiple treatments to achieve your health and skin goals and often require a financial commitment that exceeds monthly leisure cash, meaning if you want to sign up for a wellness and nutrition program for example, the costs are around 8k for a 6-month program and you may not want to take the funds from your savings account. Remember, Cherry payment plans are affordable and flexible. 
How much can I get approved for?
Cherry payment plans start from $200 to 10,000 with a wide range of payment options that you can choose from depending on your needs. In fact, they offer more than just one option.
Are they any other requirements other than decent credit?
(520 credit score or higher) 
Patient must be at least eighteen years old.

A valid U.S. state driver's license is required

A genuine bank-issued debit card is required 
Flexible payment options for you are now within reach.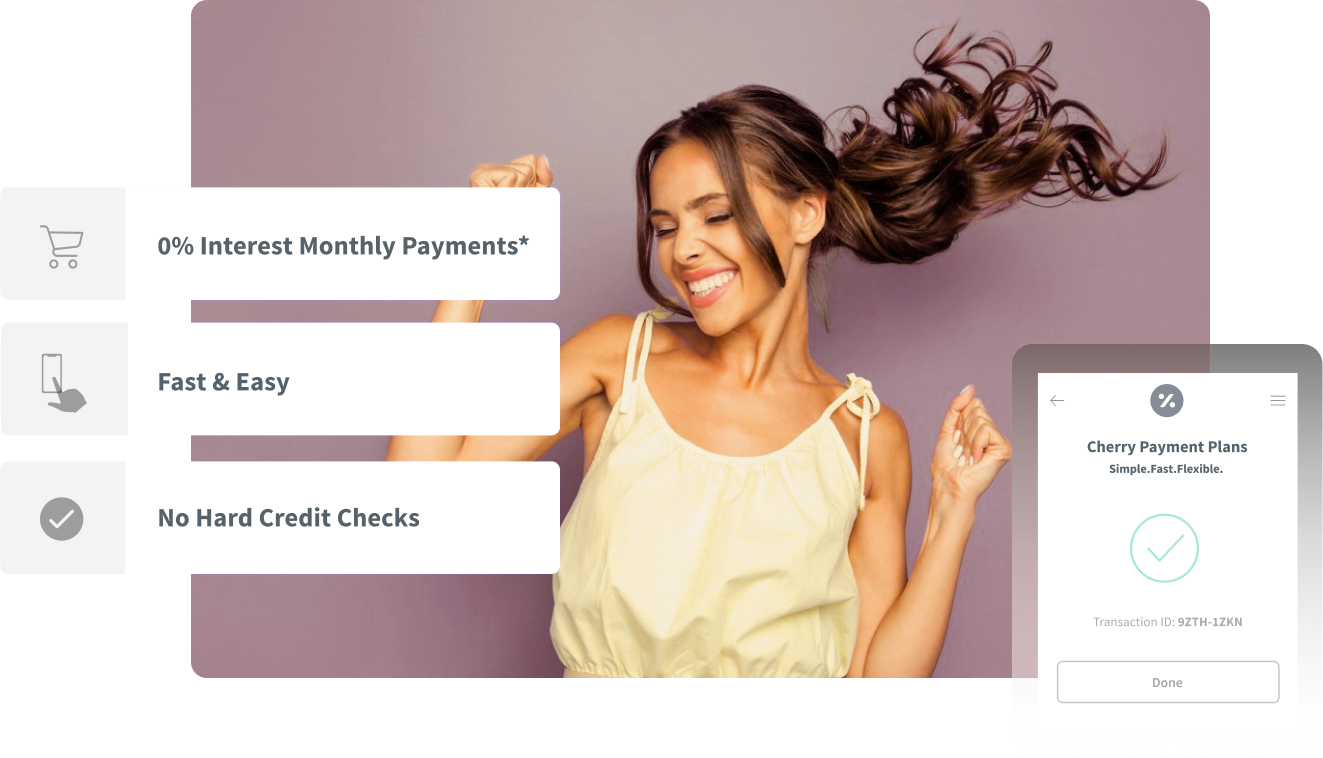 Check out Cherry's Payment Plans 
Ready to book your initial appointment with Dr. Sultan and staff? 
Whether you are looking to learn more about our extensive wellness services or you are interested in Med-Spa treatments, we have you covered. We also carry custom supplements, skincare, and wellness products. Ask for a tour of our Boutique Wellness Clinic and Med-Spa in Homewood, Alabama when you come in for your initial visit. 
Wellness Appointment Request
.                       
Med-Spa Appointment Request
"*" indicates required fields
Leave a reply